As your local FIAT dealer serving Bloomsburg, PA, B.Z. Motors Chrysler Dodge Jeep Ram FIAT is proud to offer you the best selection of FIAT vehicles, including the 500, 500e, and 124 Spider, at the most affordable prices in the area. Come by our FIAT dealership to speak with our friendly sales team about your automotive needs, and we'll help you find the perfect FIAT to hit the roads in Bloomsburg, PA.
 Things to Do in Bloomsburg, PA
Located in Columbia County, Bloomsburg is a small, historic town that serves as the County seat, and is the only incorporated town in all of PA. With its close proximity to Route 11 and Interstate 80, Bloomsburg is a bustling area of activity for its visitors and residents alike.
Bloomsburg has a rich economic history and a diverse economy, with a downtown area composed of many small artisan shops, pubs, and restaurants. Every year, Bloomsburg hosts one of the largest and longest-running fairs in the entire country, with many local arts and crafts exhibits, livestock competitions, horticulture exhibits and historical attractions, including the Barton House exhibit and the Antique Farm museum.
Other areas of interest in Bloomsburg include the Artspace Gallery, the Marketplace at the 10th Street Plaza, McCarty's Tattered & Torn, and Three Dogs Vino. To explore this great town, you'll need a reliable vehicle from a trusted FIAT dealer, such as B.Z. Motors Chrysler Dodge Jeep Ram FIAT.
Bloomsburg FIAT Dealer
FIAT vehicles have a history dating back over a century and are currently ranked third in the world. This auto manufacturer holds many awards for their vehicles, including the European Car of the Year awards, and FIAT has also manufactured military vehicles, farm tractors, weapons, and railway engines, so you know when you choose a FIAT, you're getting the very best Italian engineering.
 No matter what model you choose, the unmistakable Italian style and appeal of the FIAT is sure to be eye-catching, and few vehicles are better for cruising down a country road or zipping through the urban streets. If you have your eye on one of these fine vehicles around Bloomsburg, PA, you're going to need a reliable FIAT dealer, such as B.Z. Motors Chrysler Dodge Jeep Ram FIAT.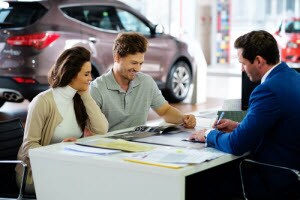 About B.Z. Motors Chrysler Dodge Jeep Ram FIAT
From the moment you set foot on our dealership, you can trust that you're in capable hands with B.Z. Motors. We have a warm and inviting environment that makes the car-buying experience even better, and our sales team is passionate and dedicated to the needs of our customers.
Whether you have a specific vehicle in mind, or you simply want to browse our huge inventory of new and used FIAT models, and explore all the available trim levels and options, we'll guide you through the entire process, all the way to your test drive.
As a full-service FIAT dealer, we also offer financing with our expert financial team, who will help you learn your options and find you the best deal, so you can leave feeling confident and secure in your purchase. You're not alone after you purchase either, so rest assured that our service technicians are here to help you keep your FIAT running its best, whether you need major repairs or routine service.
If you're in Bloomsburg, PA, and in the market for a new FIAT, stop by B.Z. Motors Chrysler Dodge Jeep Ram FIAT today!