Full-sized SUVs have a lot to offer drivers across the Danville, Sunbury and Lewisburg regions. They feature outstanding engines, great performance, tons of room for family, passengers, and cargo alike. They also give you superior technology options for everything from safety to entertainment.
Two of the best SUV manufacturers on the roads today are Jeep and Toyota. Jeep in particular has a legacy that runs back to the battlefields of World War II, and it's a tough legacy to beat. Still, Toyota's 4 Runner is there to give it a solid go. Discover what happens when the 2018 Jeep Grand Cherokee goes head to head with the 2018 Toyota 4 Runner and see where to test drive the winning SUV.
2018 Jeep Grand Cherokee vs. Toyota 4 Runner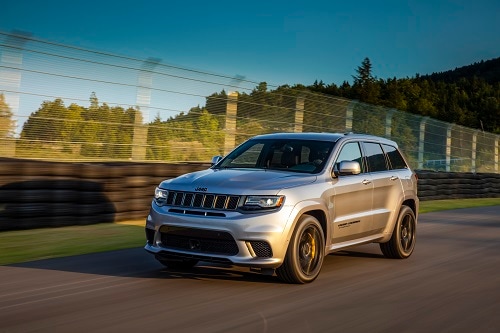 This year, the Grand Cherokee hits showrooms with a new trim level, the high-performance Trackhawk which implements a blistering supercharged V8 that puts out a walloping 707 horsepower and 470 pound-feet of torque. The base level of Grand Cherokee gives you 295 horsepower with 260 pound-feet of torque.
There are also two other engines from which to choose-a 5.7 liter V8 with 360 horsepower and 390 pound-feet, and a 6.4-liter V8 with 475 horsepower and 470 pound-feet. The new 4 Runner, on the other hand gives you only a single engine option across the entire lineup, and it only gives you 270 horsepower and 278 pound-feet of torque.  There's absolutely no comparison-Jeep handily wins.
To learn more, read our full 2018 Jeep Grand Cherokee review!
Off-Road Performance
Let's talk off-roading. After all, a full-sized SUV needs to be able to perform in tough terrain. Again, there's quite simply no contest. The 4 Runner gets solid traction from its AWD system, but Jeep has an entire trim level specifically devoted to off-roading: the Trailhawk.
This trim level gives you the Jeep Quadra-Drive II 4WD system, plus specially-tuned off-road suspension systems, hill ascent and descent control, underbody skid plates that are like armor protecting your fuel tank and engine, and a range of other features. Jeep, for many years, has prided itself on best-in-class off-road performance and it continues with the new Grand Cherokee.
Safety and Driver Aid Technology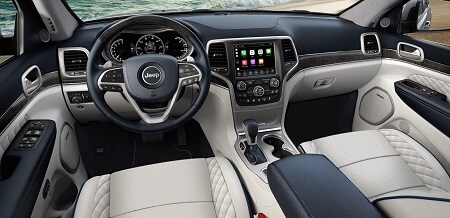 The new Jeep Grand Cherokee has a range of active and passive safety control, which puts it near the head of the class in this area as well. This includes available blind spot detection, cross-traffic alerts, adaptive cruise control, frontal crash warning and mitigation, LaneSense lane departure, parking assist, backup camera, and the Jeep Enhanced Accident Response System.
Toyota, on the other hand, gives you essentially a backup camera and parking sensors. There are no other notable safety features on this vehicle, which places it near the rear of the class.
Test Drive the New Grand Cherokee at B.Z. Motors CDJRF
If you're interested in checking out the 2018 Jeep Grand Cherokee for yourself in Sunbury, Danville or Lewisburg, B.Z. Motors is here to help. Just stop into our showroom or contact us and ask one of our sales associates about taking a test drive of this outstanding full-sized SUV today.